"YOU REALLY APPRECIATE HOW POWERFUL LIGHT IS AFTER YOU GO BLIND"
SONIA SOBERATS, PHOTOGRAPHER, NEW YORK CITY

A DOCUMENTARY BY FRANK AMANN
A BLIND PERSON IS PROBABLY THE LEAST PERSON YOU'D EXPECT TO BE A PHOTOGRAPHER. SHOT IN THE DARK IS AN INTIMATE PORTRAIT OF THREE SUCCESSFUL ARTISTS WHO HAVE ONE THING IN COMMON: VISUAL IMPAIRMENT AS A STARTING POINT FOR THEIR VISUAL EXPLORATIONS. THIS FILM POSES FUNDAMENTAL QUESTIONS ABOUT SEEING AND THE IMAGINATION AND ENRICHES OUR UNDERSTANDING OF PERCEPTION AND CREATION. WE ALL CLOSE OUR EYES IN SLEEP, THE SIGHTED AND BLIND ALIKE, AND IN OUR DREAMS – WE SEE.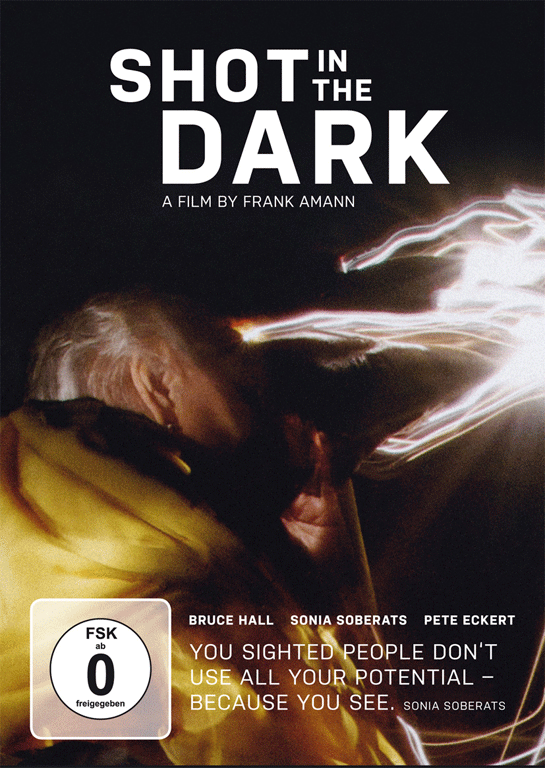 Now Shot in the Dark is also available as DVD. Bringing to you
as an extra a 16 page fully illustrated booklet including photographs
and short essays featuring photographers Pete Eckert, Sonia Soberats
and Bruce Hall. Additional texts by Gerald Pirner (writer, Berlin),
Steven Erra (artist, New York) und Frank Amann (director of the film).
The DVD also contains an audio commentary for visually impaired viewers.
AN INVISIBLE WORLD BECOMES VISIBLE

A totally new way of seeing, both in terms of the film, which is a visual work of art, and the artworks themselves – I have never seen anything quite like it.
With his moving portrait, Frank Amann has succeeded in questioning the connection between visual aesthetics and optical perception.
Sighted people's powers of imagination fall well below their potential.